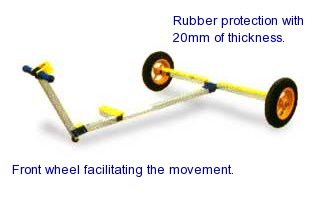 Optimist dolly and new pneumatic tire option with chamber of air and new brackets in rubber in order to better accomodate your Optimist.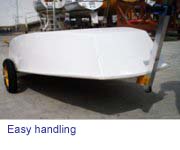 The dollies are practice and comfortable to handling, making the transport, loading and unloading easy. They are completely dismounted, super-lights made in aluminium anodised. The wheels have nylon and fiber glass rim anticorrosion, besides rigid rubber tires. Good winds!
To those that is initiating to sail, TRUCKMAR offer the easier and practical way to tansport your Optimist. Light, practical and completely dismounted, this model will follow you in your first adventures in the water.

As any other TRUCKMAR dolly, the model for OPTIMIST has the solutions with aim at become the dollies practice and a suitability for each boat model. This reflect on the accurate measures of the dolly and on special attention give for the small details.